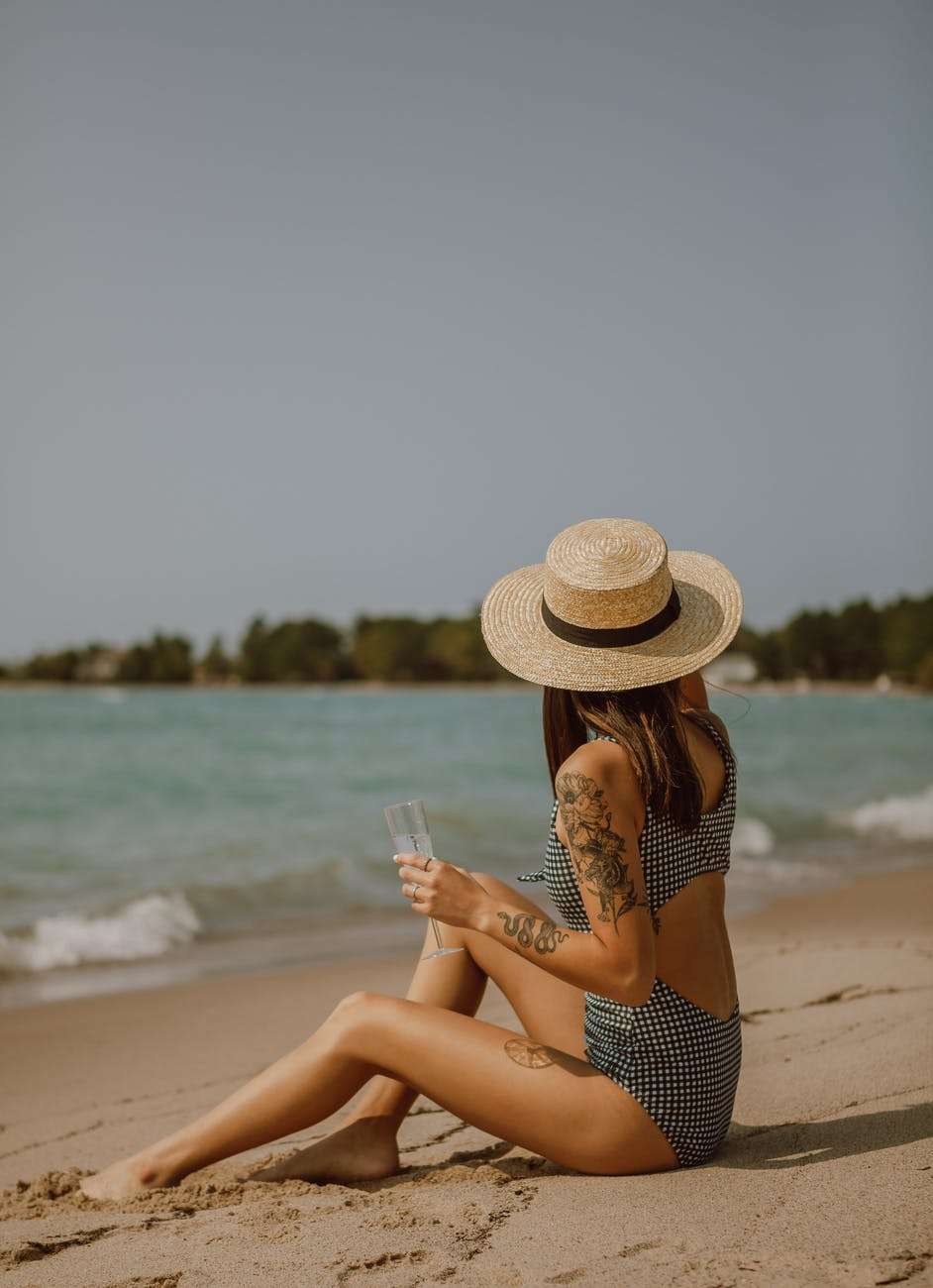 10 Sustainable Swimwear Brands I Adore
Summer is almost here, and I know many of you are looking for new swimwear to have gorgeous Instagram pictures. But, as I always say, if we're going to make some summer shopping, why not buy some sustainable swimwear?
There are many brands that focus on creating swimwear with eco-conscious fabrics and that have many body-inclusive designs. So, if that's always an option, what stops us from purchasing sustainable swimwear? Well, I think nothing!
That's why today I'm sharing with you guys 10 of my favorite sustainable swimwear brands for you to buy consciously and ethically this summer 2021!
10 Sustainable Swimwear Brands
**This post may contain affiliate links, which means that I'll earn a small commission from the purchases you make through my links, at no extra cost for you.**
Mara Hoffman is probably the most expensive brand I'll mention here. This brand has it all, from dresses to tops and swimwear, and its prices go from $150 to $300.
The best part about Mara Hoffman is that the owner, who has the same name as the brand, focuses not only on using sustainable materials but also on its practices. Mara Hoffman also includes inclusivity and body positivity in its mission.
Galamaar is a beautiful brand that has great and vintage designs in its collections. This company is based in Los Angeles and uses eco-friendly materials, which is called Econyl (recycled nylon made from fishing nets, plastic waste, and fabric scraps) to create its gorgeous swimsuits. This brand's princes go from $100 to $300.
My favorite part of this brand is its retro and vintage colors and designs. Its colors, which are unique, accentuate women's feminity, giving a 70s vibe, but with the empowerment of today's women.
You may also like: Sustainable Summer Dresses for 2021
Even though Ohoy Swim is maybe the brand with the simplest designs on the list, that fact doesn't rest points to its beauty. Simple but elegant swimsuits, with retro colors and styles, are the perfect words to describe Ohoy Swim.
This brand's prices are also the most affordable ones on the list. Its numbers go from $46 to $110, and they do great sales from time to time!
You may also like: My Favorite Sustainable Summer Dresses
If you're into the minimalist style, then this swimwear brand is for you. Londre is a company that has a positive impact on both the environment and women, inspiring ladies to be part of environmental initiatives. Also, this brand has recycled more than 100,000 plastic bottles on its journey to create a more zero-waste swimwear brand.
Londre prices go from $35 to $150, being another affordable sustainable to give an opportunity.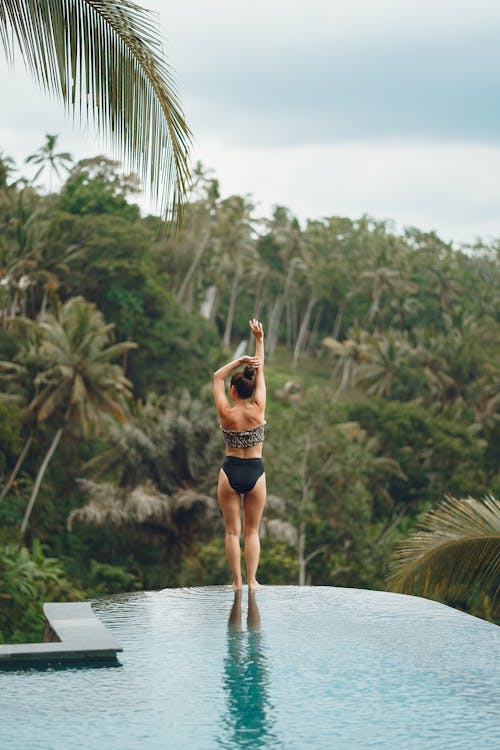 My favorite brand on this list, if I had to choose one. Vitamin A's gorgeous swimsuits and bikinis are made of recycled, organic, and eco-conscious materials such as EcoLux, recycled nylon fabrics, organic and recycled cotton.
Vitamin A's price range goes from $88 to $265, which I think is totally worth it if we take into consideration the fact that we're receiving high-quality swimsuits and saving the planet.
You may also like: Sustainable Summer Dresses for 2021
This is another of my favorite brands on this list. Aro uses both up-cycled, taken from the waste of other companies, and recycled fabrics when making their incredibly beautiful swimwear. This brand uses eco-conscious textiles, plus, their fabrics are airy and breathable.
Aro's price range goes from $80 to $190, with a big variety of colors and modern designs.
I know I've said a lot "favorite", but how can't you love these gorgeous brands?! The designs fromReformationare beautiful, and they give a vintage vibe with a bit of modern lifestyle type of clothes.
Reformation uses Econyl and recycled polyester to make its swimwear, and make it possible to be lightweight and gentle to the planet. Their prices start at $58, for the bikinis, and at $98 for the one-piece, making this brand super affordable for the quality they give us.
You may also like: Sustainable Summer Dresses for 2021
Summersalt is another stunning brand. What I love the most about this company is that their sizes go from 0 to 24, being highly body inclusive, which I value a lot from a brand. Summersalt has it all, from one-pieces to bikinis and cover-ups, and their designs are so minimal and simple that gives the swimsuit an elegant vibe.
This brand uses recycled polyimide, a fabric similar to Econyl, to make their swimsuits. And, Summersalt's price range goes from $45 to $90, making it pretty affordable.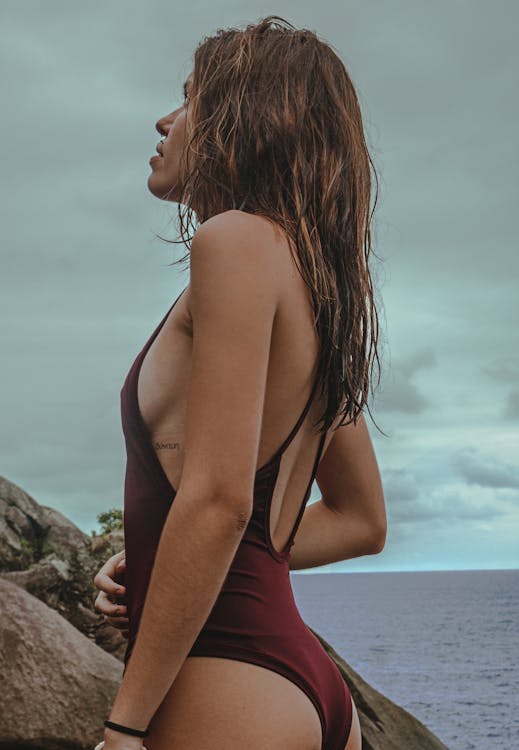 Scampi is a sustainable swimsuit brand that uses Econyl to make its high-quality swimwear. Its beautiful designs are inspired by beaches all over the world and their styles give a gorgeous vintage vibe. Therefore, this brand has bikinis and one-pieces to satisfy all the needs and likes of people whenever they're looking for another purchase.
Scampi's prices range fo from $170 to $210, with a wide and beautiful color palette.
You may also like: Sustainable Summer Dresses for 2021
Looking for a vintage aesthetic? Then this one is for you!
Ookioh is a brand that's on its way to becoming fully sustainable. They use fabrics made in an Italian mill that takes ocean waste to create textiles. Ookioh isn't the perfect brand when we talk about sustainability, but it's working towards it, which is something I really appreciate from companies.
The price range from this brand goes from $49 for the tops or bottoms alone and $98 for the one-piece.
You may also like:
– Sustainable Summer Dresses for 2021
– Habits of productive people
– Selfcare apps you must download
– How to stay organized
Then this is it! These were 10 sustainable swimwear brands you must buy from this summer!
Comment below if you know any of these brands and which ones are your favorite!
And don't forget to pin this post for later so you can come to it whenever you need it!